If you have a non-emergency support issue please use this form to submit your request and one of our technicians will contact you as soon as possible.
Click here to submit an online support request.
---
Having ready access to factory certified support services is the easiest and most cost-effective way to keep your ID system equipment and production team operating at peak efficiency while ensuring high quality results and maximum return on your investment year after year.
Unlike Internet-based companies, we have a long history of providing knowledgeable support services by phone, remote desktop, depot service, onsite visits*, or scheduled onsite preventive maintenance*. Our services are available on a transactional basis, but for qualifying items, we recommend subscribing to an annually renewable Service Agreement customized to your particular needs. Plus, our Service Agreements let you preplan for out-of-budget service expenses so you can have your system back up and running with minimal inconvenience.
*Onsite service is typically available only to customers within the surrounding 6-state area: Colorado, Iowa, Kansas, Missouri, Nebraska, and Oklahoma. Please call if service is desired outside this area.
---
Main: 913-541-8980
Toll Free: 888-541-8980
Email: support@daymarksolutions.com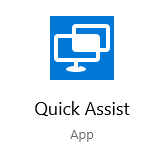 For remote support on Windows 10 machines we are now using Quick Assist. It's built into the Windows operating system and is convenient and safe.
If you are using an older operating system like Windows 7, which is no longer supported by Microsoft, or Windows 8.1 we do have other remote support options. Please call and we can discuss those options.